In the ISOTEC Group:
We stand for quality!
[Translate to Englisch:] 120000
[Translate to Englisch:] Erfolgreiche Sanierungen
[Translate to Englisch:] 10000
[Translate to Englisch:] Sanierungen pro Jahr
[Translate to Englisch:] 30
[Translate to Englisch:] Jahre Erfolg
Our multi-layer system structures provide double protection against moisture. In addition, we work according to the strict ISOTEC quality guidelines and document our work extensively. Continuous training and further education measures enable us to be at the cutting edge of technology.
We provide an extended warranty of 10 years on most (not all) of our renovation work. The exact warranty period depends on the method or trade used and the individual local conditions. Please discuss the specific circumstances and possible warranty periods with your local contact. The warranty periods agreed in the order apply.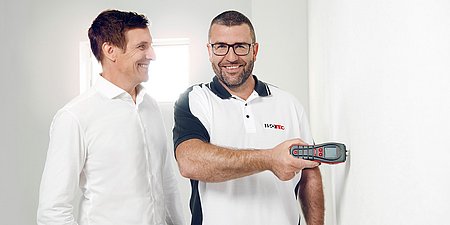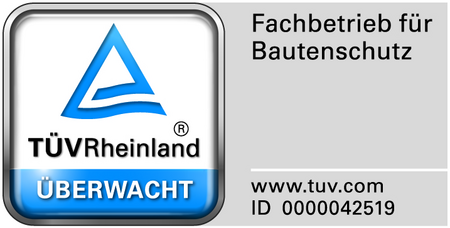 As a leading specialist in the field of remediation of moisture and mould damage to buildings, quality assurance is our top priority. To safeguard this claim, we maintain a constant exchange with scientists and building experts on the one hand and have our remediation services certified by recognised external institutions on the other.
For example, we regularly have the quality of our services monitored by TÜV Rheinland. In addition to testing the technical equipment, the fundamental suitability of the company is also assessed. In addition, at least one employee in charge of construction must pass a theoretical TÜV test. If these requirements are met, a TÜV engineer visits the ISOTEC specialist company on a construction site at least once a year and inspects various trades.
We are TÜV Rheinland certified and therefore have the certificate as a "supervised company for building waterproofing".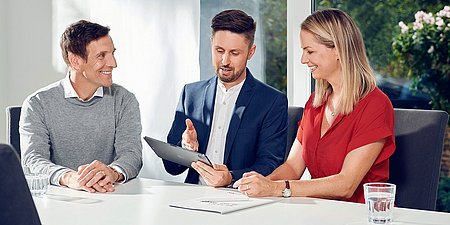 We guarantee fixed prices: Most ISOTEC trades allow fixed prices due to our many years of experience.
That's why we offer fixed prices wherever possible. This way you have the costs under control right from the start and the good feeling of reliable planning.
We attach great importance to permanently training and educating our employees. Our high quality standards do not stop at the products, but also include error-free application and processing. This is because important contents from quality management have to be conveyed in a sustainable manner. Our employees are regularly allowed to attend intensive training courses at the head office. On the one hand, at the beginning of their work, and on the other hand, permanently, in order to always be technically and economically up to date.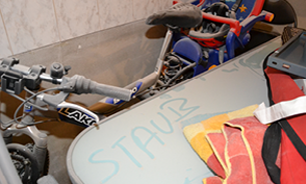 01

[Translate to Englisch:] Die Ursache: Sanierungsarbeiten

[Translate to Englisch:] Bei Rückbauarbeiten in Zusammenhang mit der Sanierung von Feuchtigkeitsschäden, wie z.B. dem Abstemmen von Wandputz und dem Ausbau von Estrichkonstruktionen ist auch bei den von uns eingesetzten Gerätschaften mit Staubabsaugung eine vollständige Staubentwicklung nicht zu verhindern.
02

[Translate to Englisch:] Staubschutzwände und -türen

[Translate to Englisch:] Bei staubintensiven Arbeiten erfolgt durch unsere Mitarbeiter eine objektspezifische und staubdichte Abschottung zwischen dem Sanierungsbereich und dem angrenzenden Wohnbereich. Dies erfolgt z.B. durch die Montage von staubdichten Folientüren oder durch den Einsatz spezieller Staubschutzwände.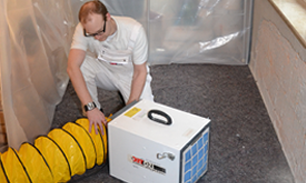 03

[Translate to Englisch:] Unterdruckgeräte und Ventilatoren

[Translate to Englisch:] Durch den Einsatz von Unterdruckgeräten mit Filtern oder Ventilatoren im Sanierungsbereich ein Unterdruck erzeugt. Die dadurch entstehende Luftdruckdifferenz zwischen dem Sanierungsbereich und den angrenzenden Räumen sorgt dafür, dass der Staubtransport aus dem Sanierungsbereich in die angrenzenden Räume minimiert wird.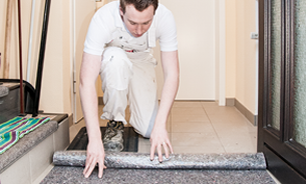 04

[Translate to Englisch:] Wir kleben ab: Laufwege zum Schutz des Bodens

[Translate to Englisch:] Um bei einem objektspezifischen unvermeidbaren Transport von Material aus und in den Sanierungsbereich zu verhindern, dass Bodenbeläge beschädigt werden, werden Laufwege abgeklebt und somit geschützt.